Yesterday I went to the Plaistow, NH Dover Saddlery with my horse buddy Tania. She is the one who accompanied me to WEG last fall, so she is well versed in horse adventures! LOL!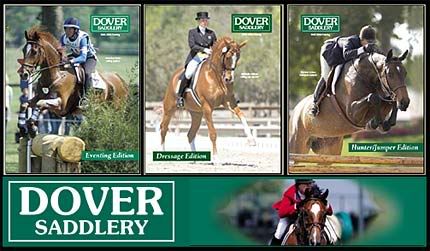 We had a good time. She had not been to Dover since it was State Line Tack! That was a long time ago! It is a neat old barn and I do like shopping directly at Dover, since they have the highest shipping charges of any of the horsey supply catalog or online retailers. The only bad thing about Dover in NH is that the bargain basement is not nearly as good as the one State Line Tack used to have.
I really did not need much of anything, but it was still fun to browse around. We looked at everything, of course, and even tried out the saddles. I ended up with a brown half zip fleece (and Tania got one too so we can be matchy-matchy! LOL), a little burgundy bucket because you can never have too many, a 60cc dose syringe, Mattes liquid melp, Manna Pro Apple Treats, cute Tuff Rider argyle riding socks, Brush Therapy, and a pink jumping bat!
The best part was that I was able to get my grain there too!! I was going to have to get grain today (Sunday) but I had hoped I could find a dealer on the way down to Dover. As I was at the cash register, I was about to say, "Do you know where the closest Triple Crown dealer is...??" when I saw the huge sign that told their grain prices! LOL! OH! So I was able to drive down back to their annex store, Dover Feed and Stable! Yay!
We went out to lunch at Friendly's and got back to Maine just as the snow storm was beginning. All in all, a fun filled day! :)